We are excited to share with you an exclusive opportunity available to our ministry partners. As a measure of gratitude for your care and support for our mission to provide a place of rest for missionaries, and as a ministry to you, we are pleased to announce a new program to bring necessary estate planning tools to you at substantially reduced costs.* We have also partnered with local estate planning attorneys to ensure your needs are met. Do not allow your affairs to be governed by chance. Get the services you need through this incredible program designed specifically for our most treasured asset – you.
*Any necessary legal estate planning will be conducted by a licensed attorney who may or may not render estate planning tools in their independent, professional judgment.
A Message from the President
Dear Ministry Partners, I pray that you are doing well. In my Bible reading I came across a gold nugget that I wanted to share with you. Psalms 145:4 says, "One generation shall praise Your works to another, and shall declare Your might acts." The NLT says, "Let each generation tell its children of your mighty acts; let them proclaim your power."
That is a wonderful thought. When Joyce and I started Siloam Missionary Homes in 1992, I began to journal our experiences. I wrote often about God's faithfulness and how He provided people along the way to make this campus what it is today. What a blessing to read those journals and see not only the things we were praying for, but also how God chose to answer them. When I give tours of Siloam it brings back memories of why we built each home. 
All of the buildings and places are named after people that were involved in a particular project. We did this so future generations will be able to carry with them the legacy of how God used people. Now that Siloam is 27 years-old we are seeing the next generation bring their children and grandchildren to see this place. Continue Reading
Estate Planning Services
Complete Review of your estate planning objectives including banking, life insurance, medicare, real estate, retirement accounts, and annuities to ensure proper planning for your end-of-life needs.
Comprehensive Plan including recommendations to achieve your planning objectives and methods to carry out those objectives with minimal expense and delay after your passing.
Estate Planning Experience
Terry Brown, Planning Specialist
Learn More or Schedule an Appointment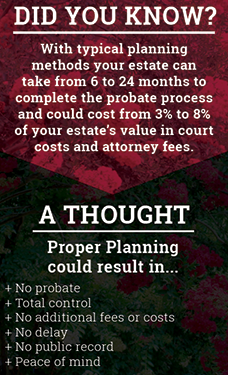 Confidentiality
Information obtained by the Estate Planning Specialist is considered confidential and will not be shared with the staff or board of Siloam Missionary Homes without your explicit consent.